Regular price
$0.00 USD
Sale price
$39.95 USD
Unit price
per
Sale
Sold out
Take your skin care routine to the next level. Clearer, more youthful looking skin is yours at the touch of a button.
Our multifunctional skin rejuvenation beauty instrument has four working modes and multiple functions, which can help you solve a variety of skin problems and restore your youthful, flawless skin.
The cleansing and rejuvenating mode can deeply clean the skin, gently and thoroughly remove makeup dirt without hurting the skin, reducing clogged pores, and leaving the skin clean and bright.


Deep cleaning (to clean makeup residue, dust and grease after makeup removal) If makeup is not cleaned in time, it will clog pores and turn into acne and blackheads, which will be more difficult to remove.
Rejuvenate collagen mode (RF red light mode) This function can promote the synthesis and regeneration of collagen, tighten the skin, improve skin elasticity, lighten and remove wrinkles)

Smooth out fine lines and tighten skin
Effective solutions to skin problems
Sagging skin
Deep wrinkles
Signs of sun damage

Negative ion introduction nourishing mode. Suitable for dry skin, to moisturize and repair. This function can help promote the absorption of skin care products and masks, decompose macromolecular nutrients through ion technology, allows the skin to absorb faster, and improve the effectiveness of skin care products.

The light therapy rejuvenation mode has two modes. The red light mode quickly introduces the skin care essence, allowing the skin to fully absorb the skin care essence and moisture nutrition, increase collagen, reduce wrinkles, and the blue light mode can tighten pores, improve acne acne, and tighten loose skin.

The warm lifting mode can massage the skin with high frequency, tighten and lifts the skin, restore skin vitality, reduce edema, shrink pores and brighten the skin.

The eye care mode uses warm vibration massage to relieve eye fatigue, help you quickly absorb eye cream essence, reduce fine lines and dilute dark circles, aiming to achieve eye beauty effects.

The stylish appearance, compact body and USB charging design make it convenient to carry this beauty device, allowing you to enjoy a professional beauty SPA anytime, anywhere.
Operation
Q:How to use?
A: You can first use the clean mode to remove makeup and clean the skin with cleansing products. Follow the skin care process with water, face cream, eye cream and other skin care products followed by massage and heating modes. The manual contains detailed instructions on how to use it with pictures.
Q: Frequency of use/time of use
A: Clean and detox mode can be used every day, other modes can be used 2-3 times a week, it is recommended to use it once a week for sensitive skin, each mode is used for 4 minutes, and it will stop automatically after 4 minutes. The perfect partner for winter skin care.
You can use the heating mode to help the fast absorption of masks, essences, lotions and other products, allowing you to enjoy the happiness and comfort of skin care even more. If you stay up late/are sleep deprived, work overtime, travel for a long time, and spend time in the sun, then your skin will be gradually damaged, and you need a powerful beauty device to help you take care of your skin.
Specifications:
Material: ABS
Colors: pink, white
Size: 5.05*5.1*17cm
Weight: 90g
Output voltage: 3.7V/0.6A
Charging time: 3-4 hours
Use time: 0.5-1H
Packing List:
1* 5in1 Skin Care Device
1* Rubber Ring
1* Plastic Inner Box
1* USB Charging Cable
1* User Manual
1* Cardboard Outer Box
What is the difference between 7 in 1 and 5 in 1?
7 in 1:
7 Functions (Deep Cleansing, Revitalizing Collagen, Lightening Acne Marks, Skin Rejuvenation And Whitening, Skin Moisturizing, EMS Firming And Lifting)
4 Types of light therapy(Red, Blue, Purple, Orange)
3 Levels intensity: L/M/H
5 in 1:
5 Functions (Deep Cleansing, Phototherapy Skin Rejuvenation, Warm Lifting, EMS Firming And Lifting, Eye Care)
2 Types of light therapy(Red, Blue)
3 Levels intensity: L/M/H
Share
View full details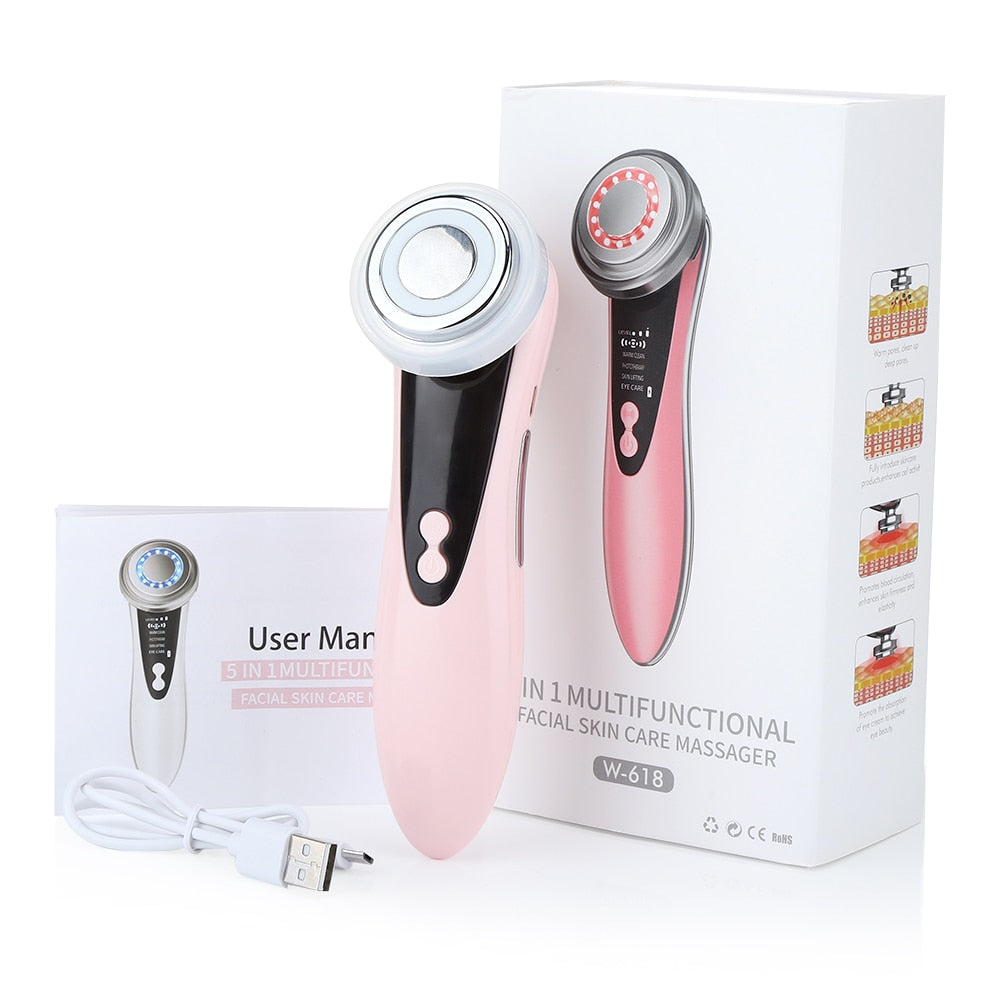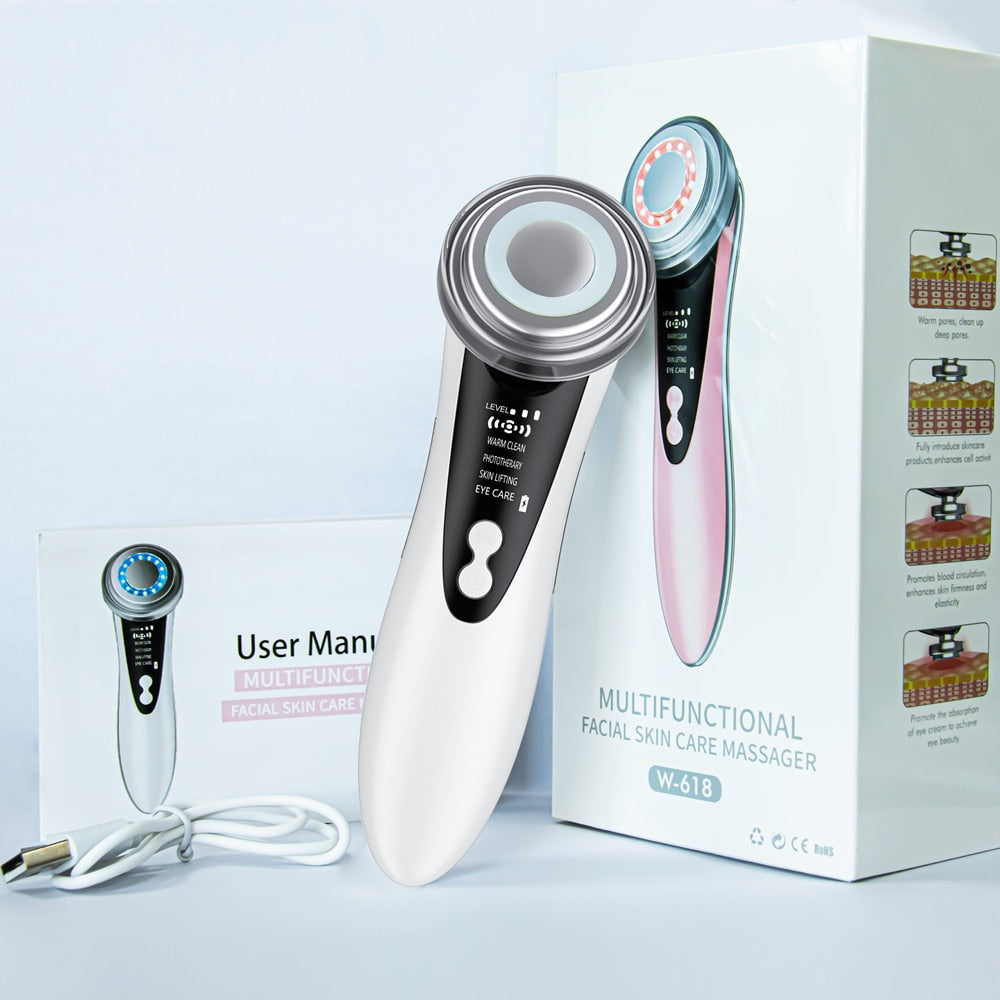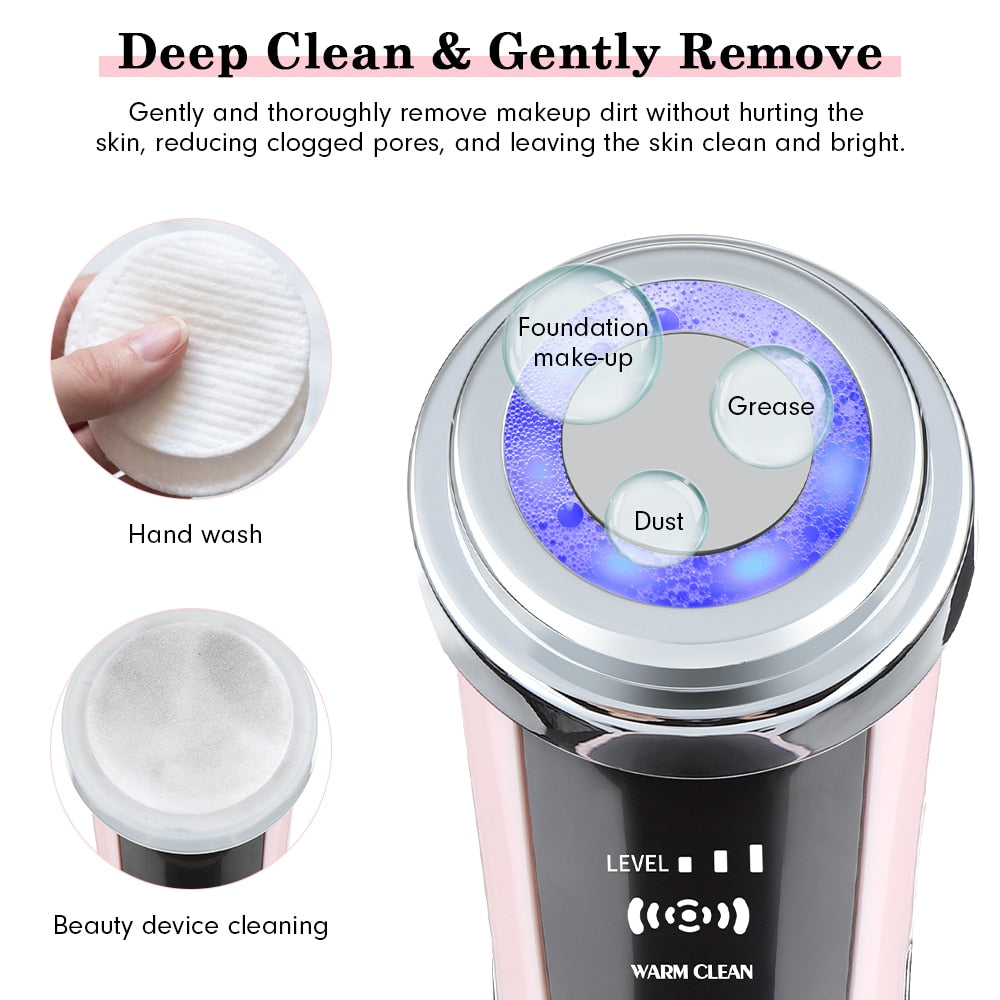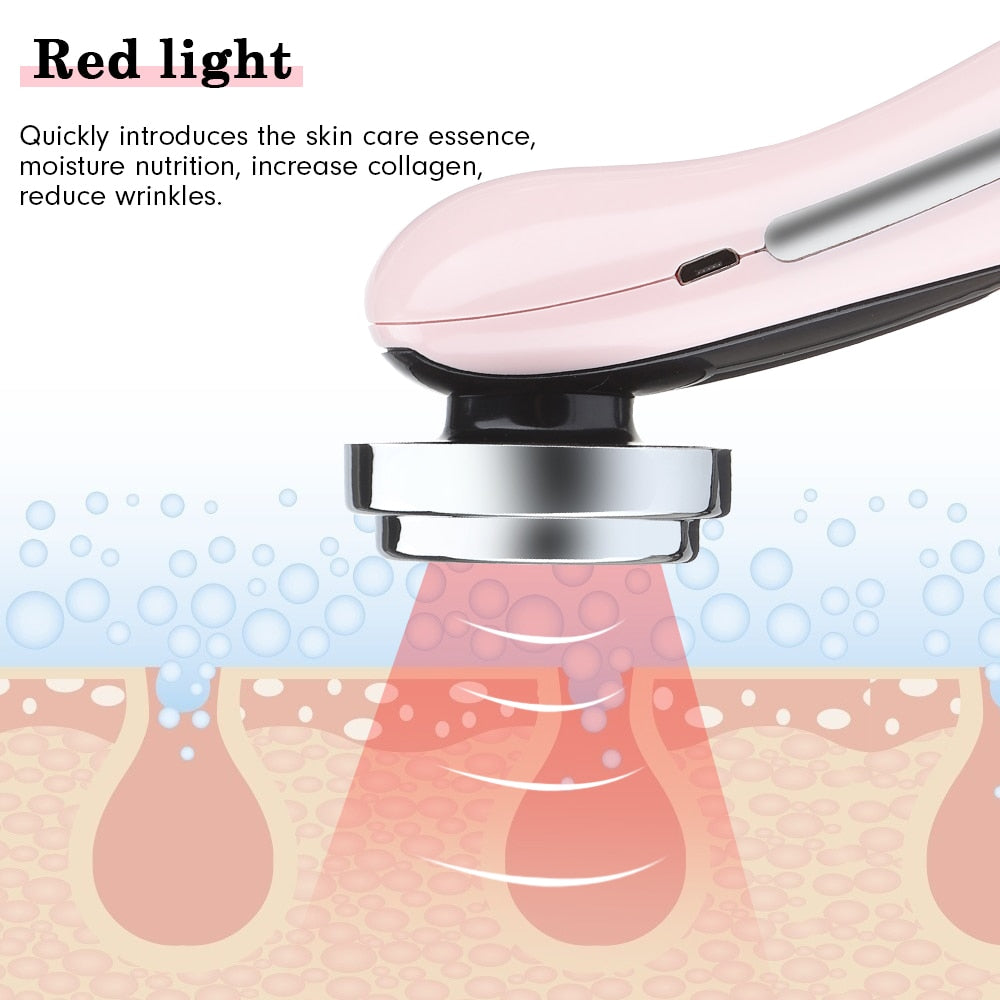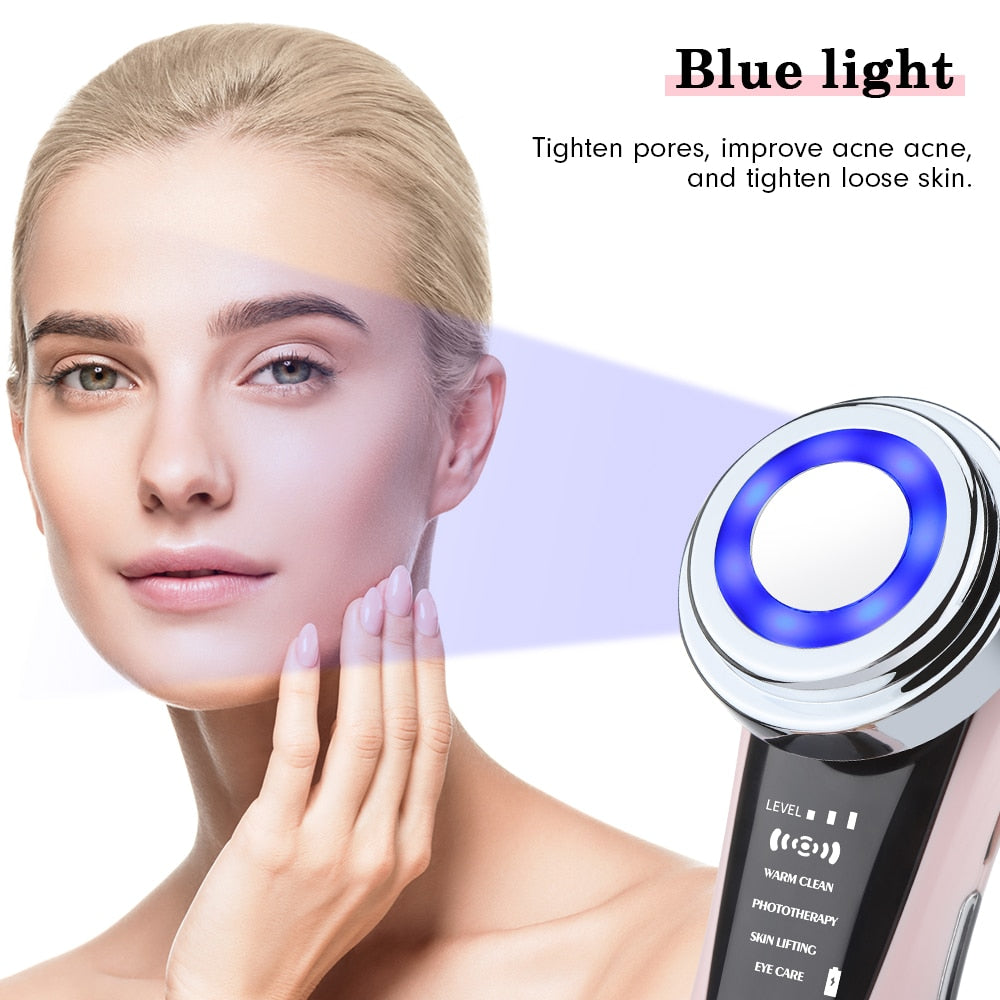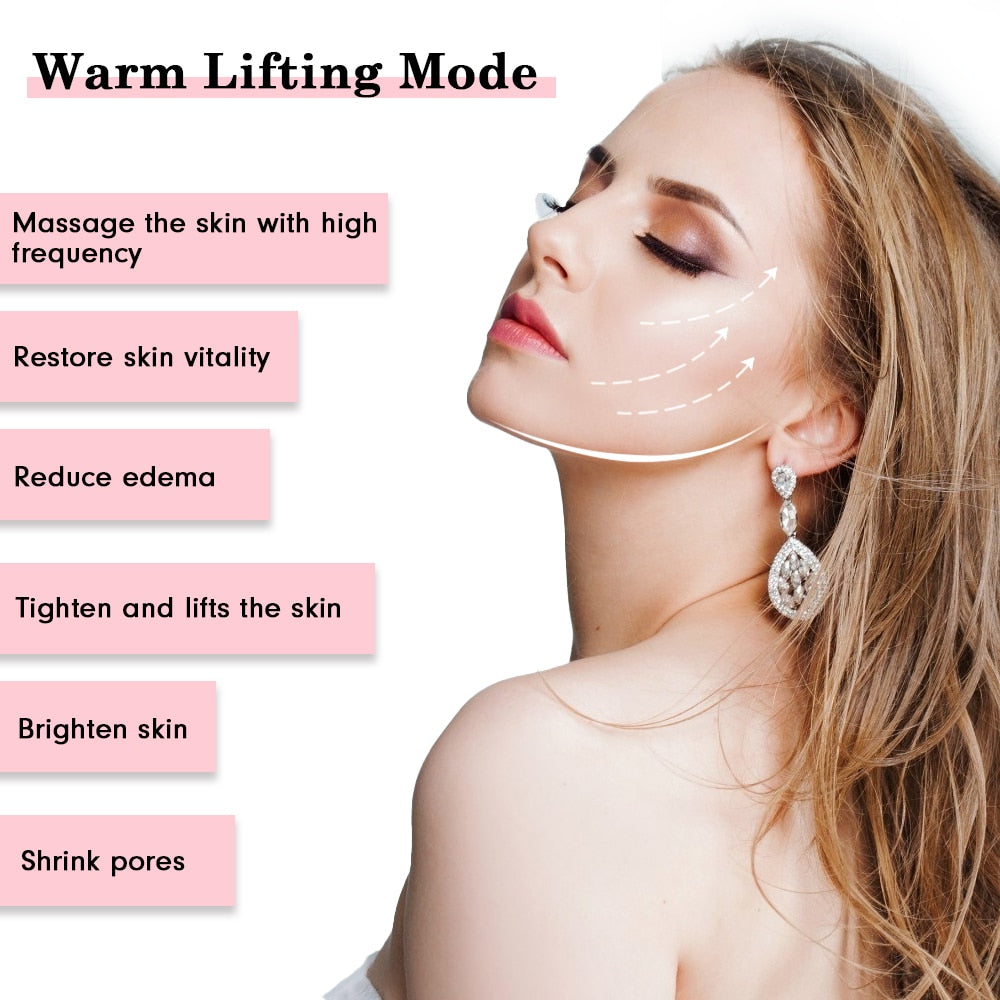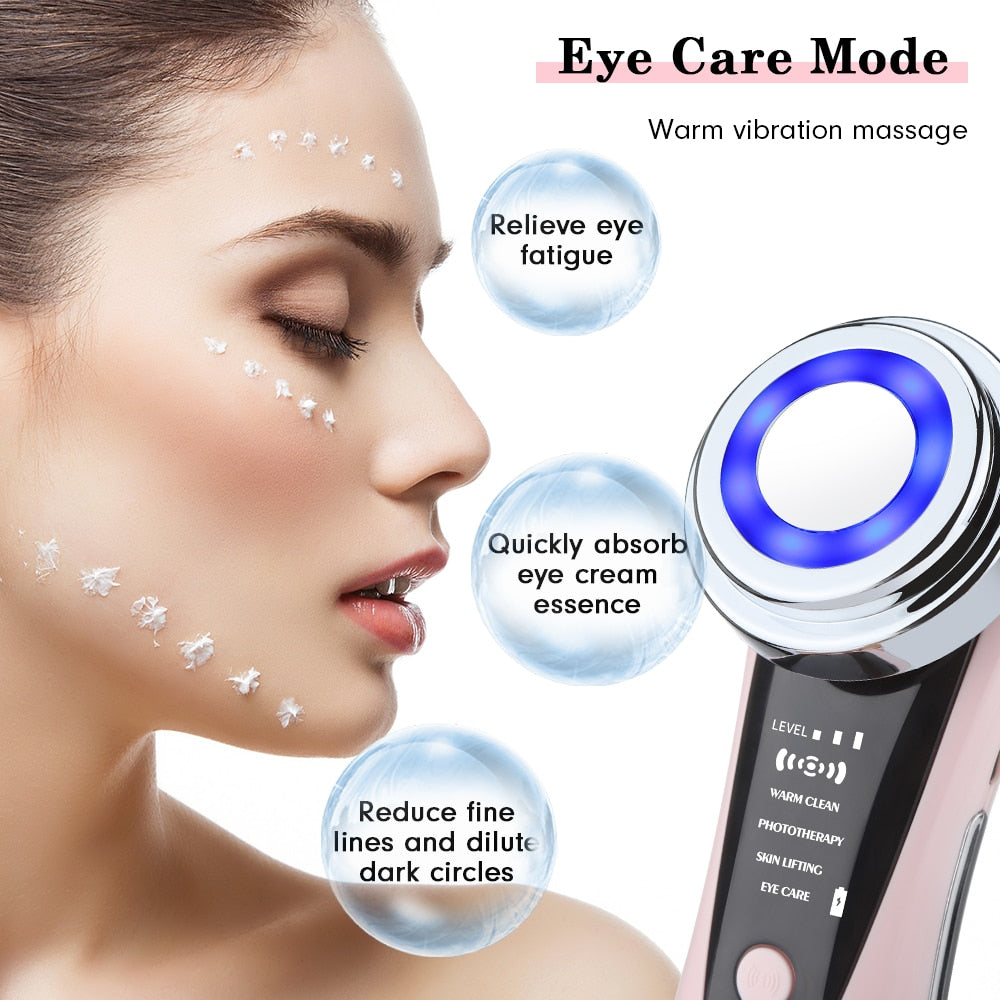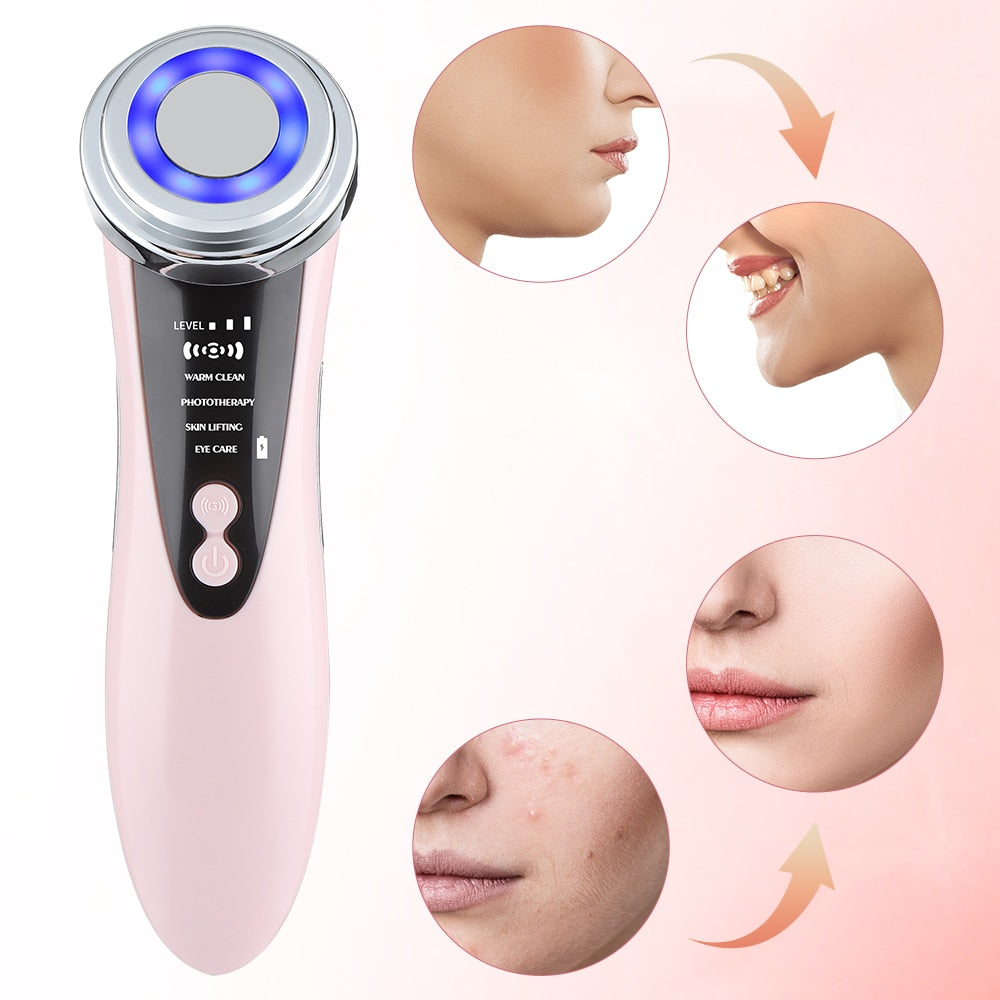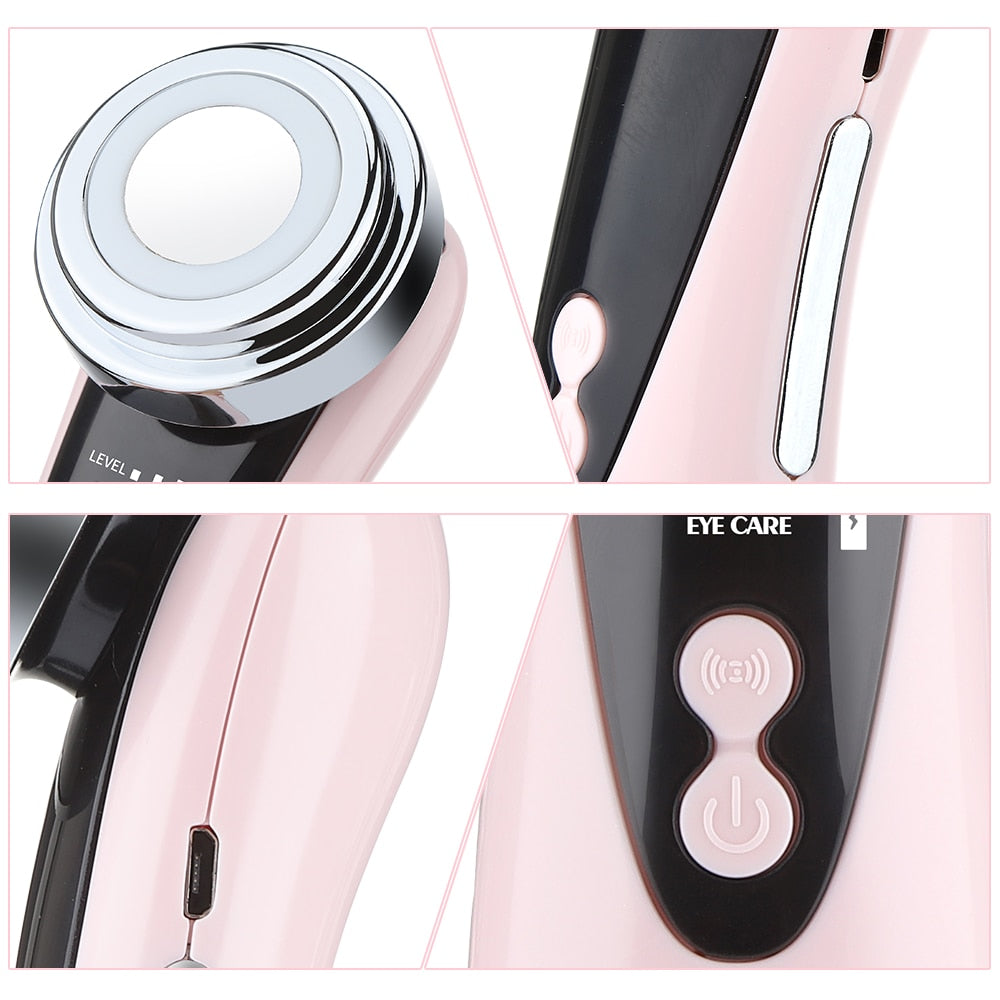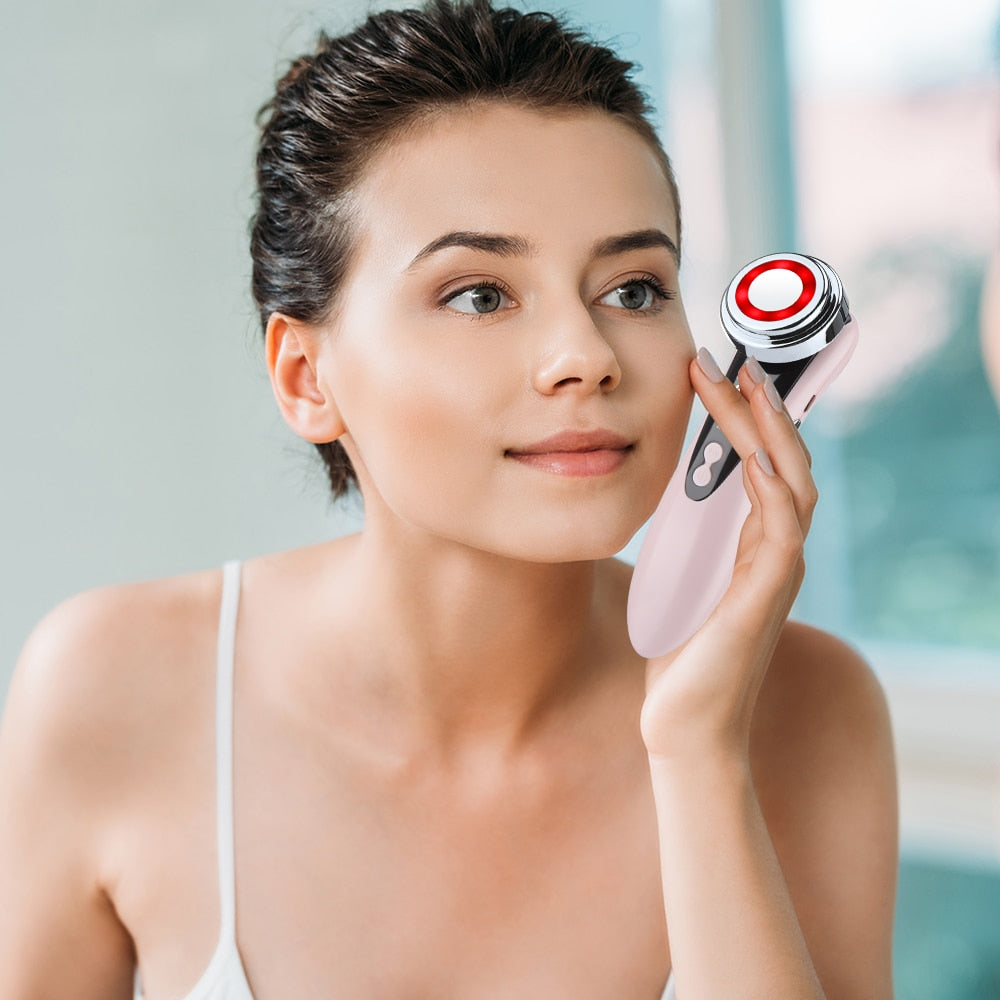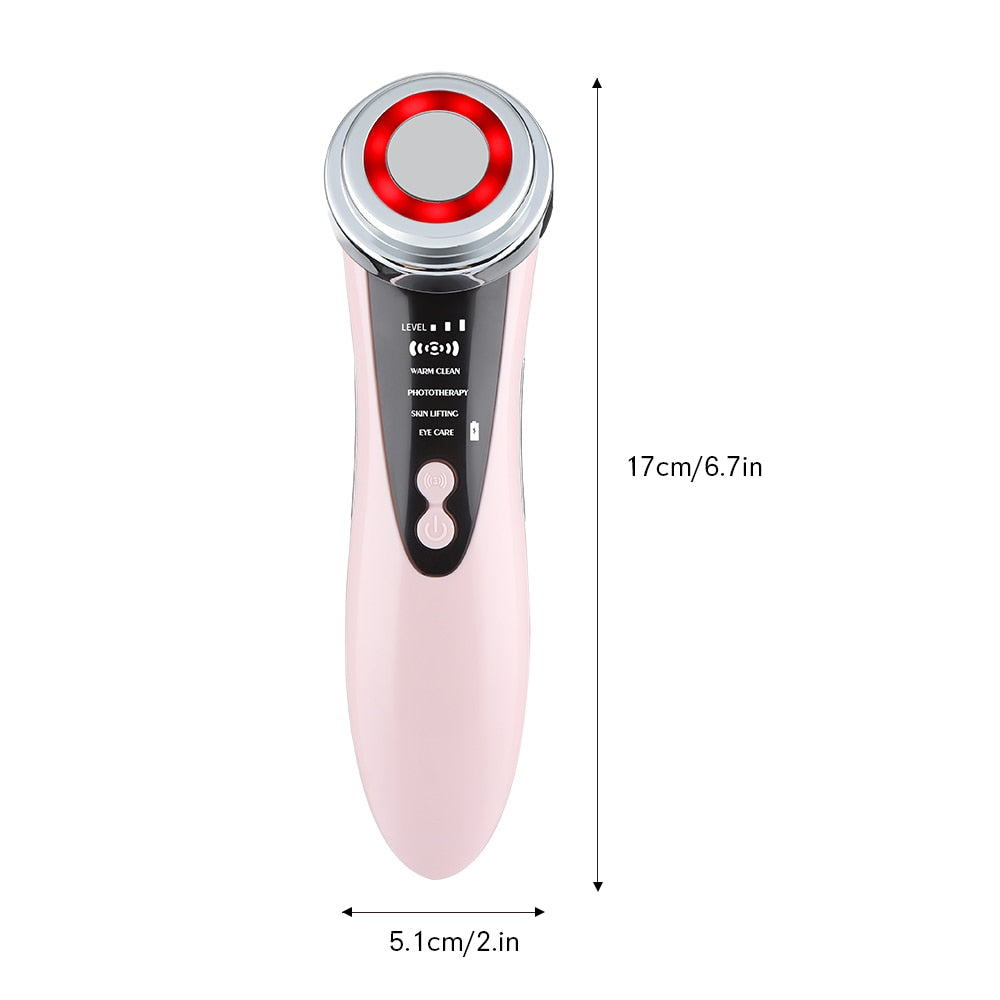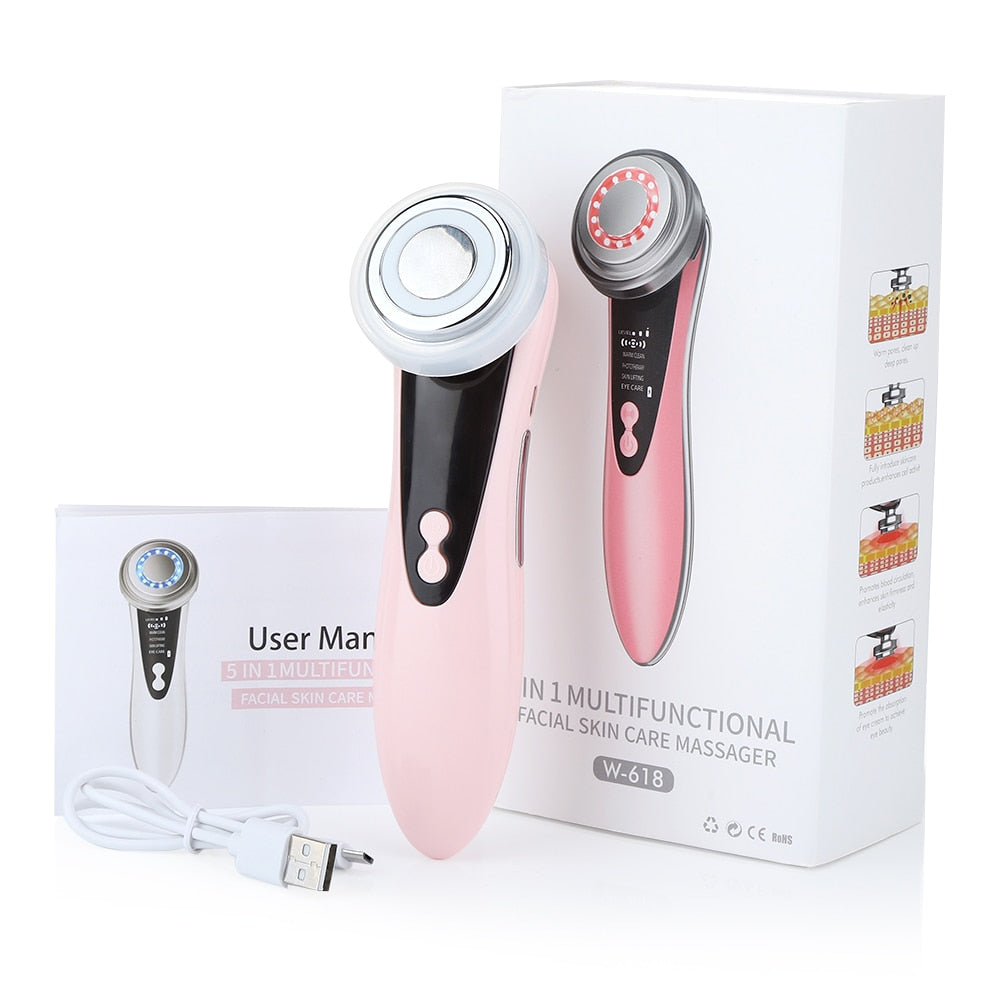 Recently Viewed