Regular price
$67.99 USD
Sale price
$59.99 USD
Unit price
per
Sale
Sold out
7 in 1 Face Massager
Get clearer, firmer and more vibrant looking skin! Liven up your skin care routine with this powerful device. Deep clean your pores, and fight the signs of time. Your skin will thank you.
The effective solution to skin problems like sagging skin, deep wrinkles and signs of sun damage in the palm of your hand.
Features:
EMS micro-current (Galvanic ions): Use the principle of the mildest impulse current anode and cathode attract, soften and discharge grease and grime.
Vibration: Adopt physical vibrating, electric stimulating way to increase the elasticity and enhance the cellular metabolism.
Warm Massage: Promote absorption of skin care products, make skin texture stretched, keep skin full of elasticity.
Red Light: 640nm-650nm red light deep into the dermis, increases blood circulation to diminish wrinkles, tighten skin and encourages the production of new skin cells.
Blue Light: Wavelength 415nm has a rapid anti-inflammatory effect, reducing sebum liveness eliminate acne bacilli to remove acne and whelk, improve oily skin.
Orange light: Wavelength 600nm deep into skin 1-2mm, effectively treat the skin red spot relieve swelling, promote the cuticle metabolism to make the skin whitening.
Deep cleaning (to clean makeup residue and dust grease after makeup removal) If makeup is not cleaned in time, it will clog pores and turn into acne and blackheads, which will be more difficult to remove.
Rejuvenate collagen mode (that is RF red light mode) This function can promote the synthesis and regeneration of collagen, tighten the skin, improve skin elasticity, lighten and remove wrinkles and smooth out fine lines.

Negative ion introduction nourishing mode: suitable for dry skin to moisturize and repair. This function can help promote the absorption of skin care products and masks, decompose macromolecular nutrients through ion technology, make the skin absorb faster, and improve the skin care effect of skin care products
Specifications
Power: 4W
Working volt: 3.7V
Material: plastic
Battery: 750mAh
Charging time: approx. 3 hours
Size: 16.5*5*5.4cm
Certification: RoHS,FCC,CE
Packing list:
1* 7 in1 Face Massager
1* User Manual
1* USB Charging Cord
1* Charging Base
1* Secure Ring
Neck Beauty Device

Features
1. Neck beauty device that can be used on both the neck and face to effectively lift and firm the skin, reduce facial wrinkles, fine lines and neck lines, and is designed to give you a swan neck.
2. Multi-effect skin care: color light rejuvenation + sonic vibration + deep cleaning + nourishing introduction + positive and negative ions + 45 ℃ constant temperature hot compress to make your skin smooth and firm.
3. Four modes, three intensity adjustments, accelerate blood circulation, promote collagen production, dredge meridians, shrink pores, and rejuvenate the skin.
4. Dolphin bionic design, 160° around the neck, fully fit the neck curve, and can deeply touch the neck skin.
5. Positive and negative ions are efficiently introduced into nutrients to improve the absorption efficiency of nutrients by the skin. When used with neck cream and neck mask, the effect is doubled.
Specifications
Material: ABS
Color: White
Rated voltage: 3.7V
Rated current: 500MA
Rated power: 2W
Built-in battery capacity: 450mAh
Power input: 5V/1A
Product net weight: 0.085KG
Product size: 14*9*3.8CM
Packing size: 16.8*11.8*5.2CM
Share
View full details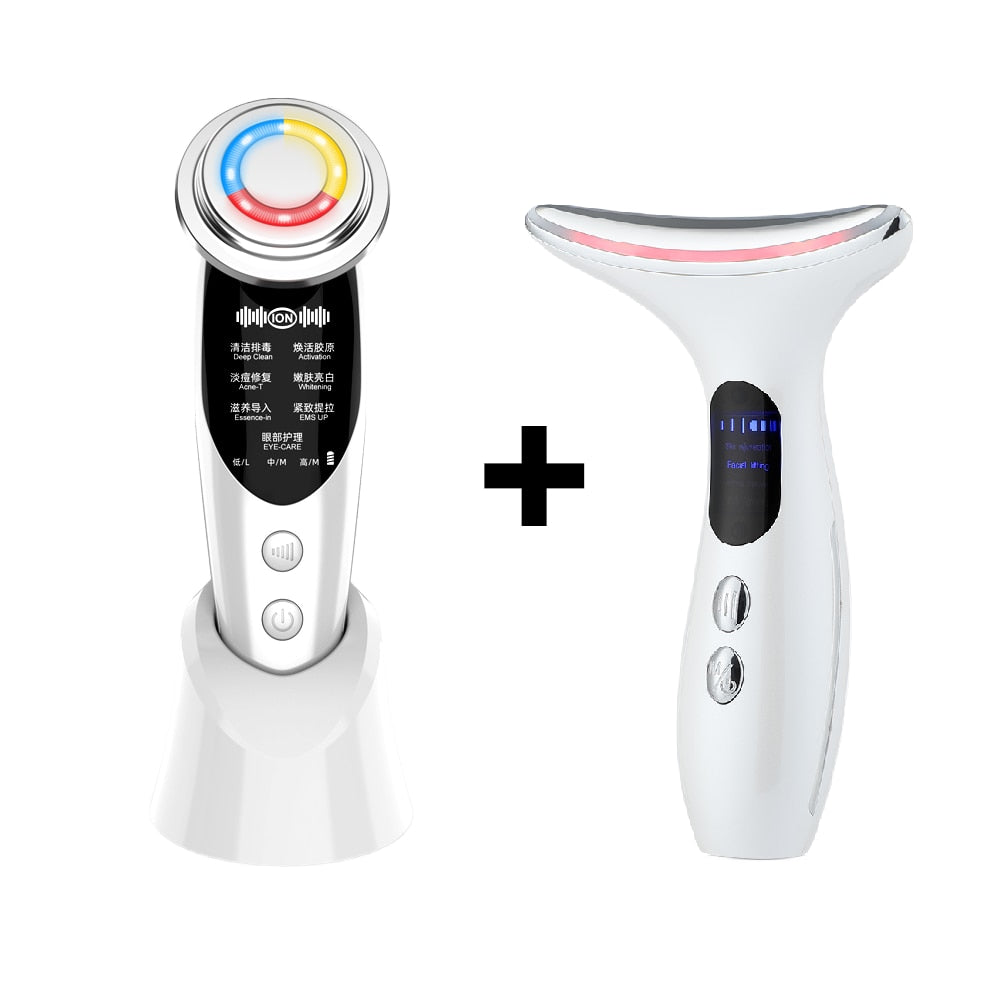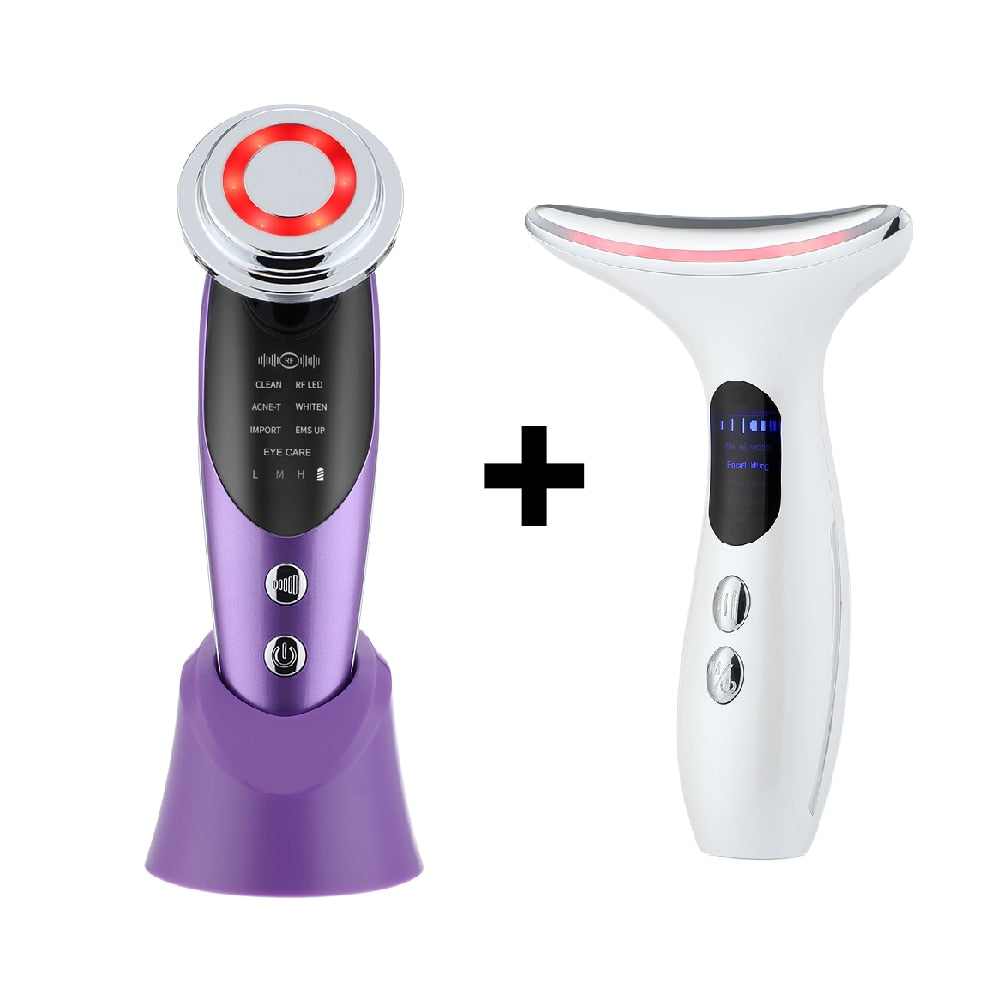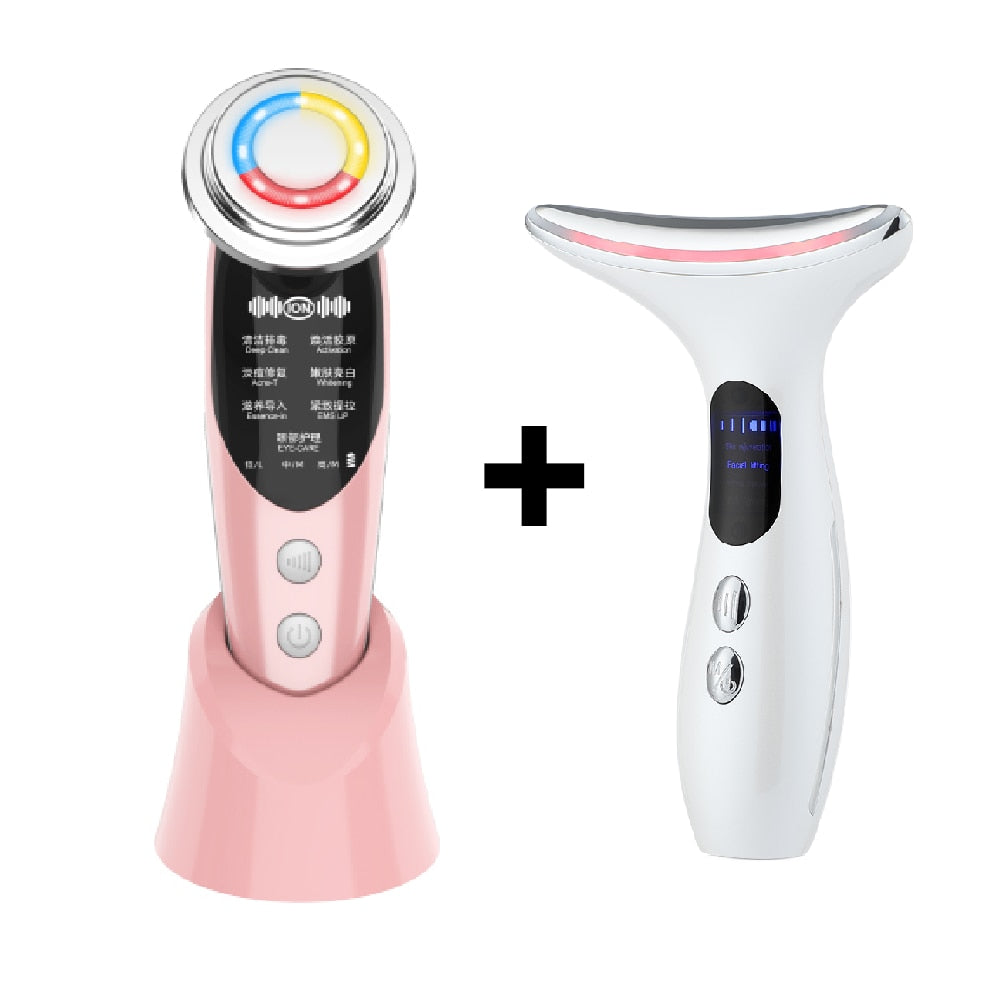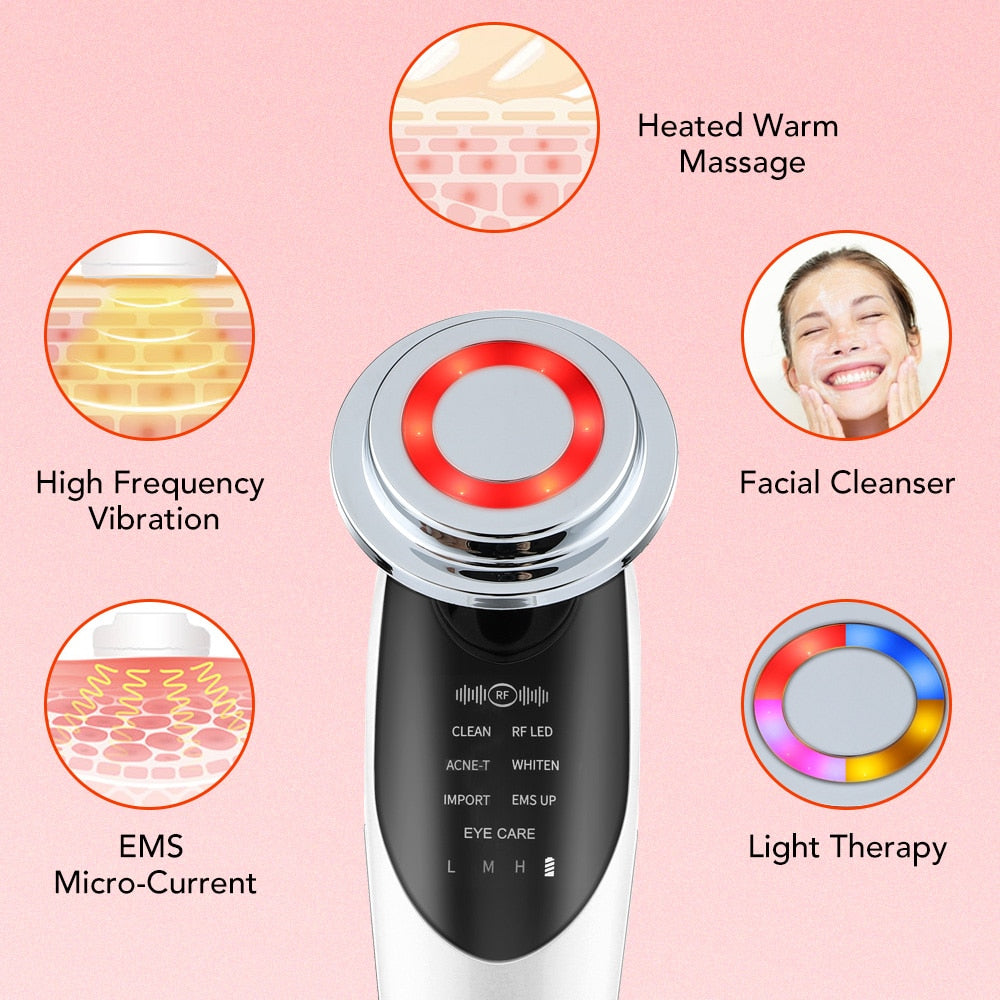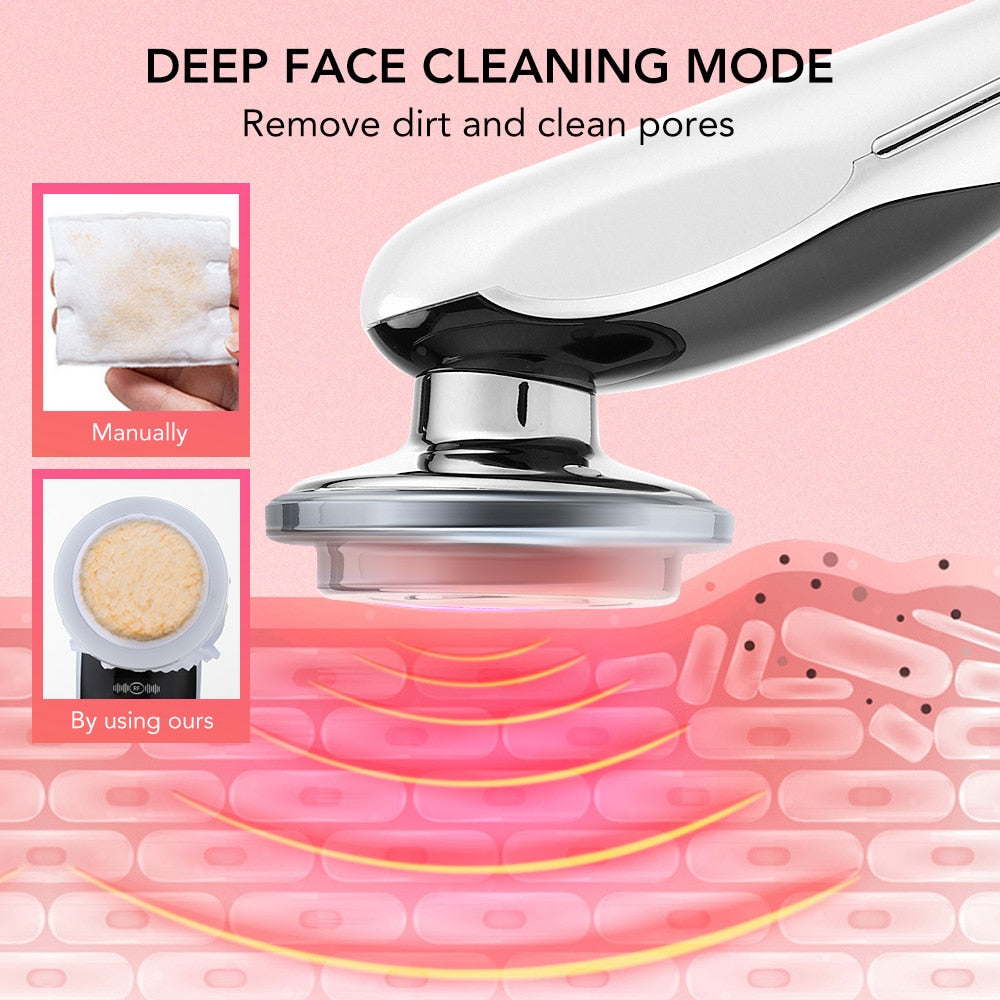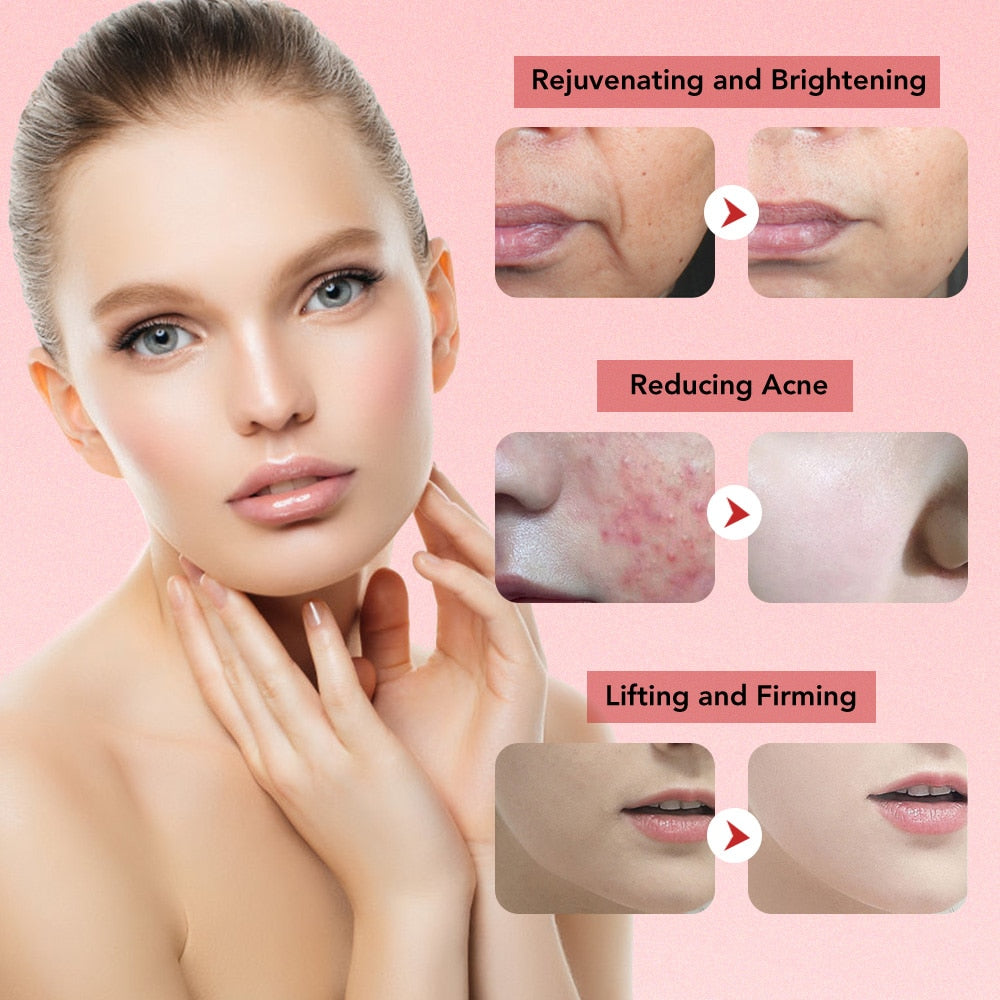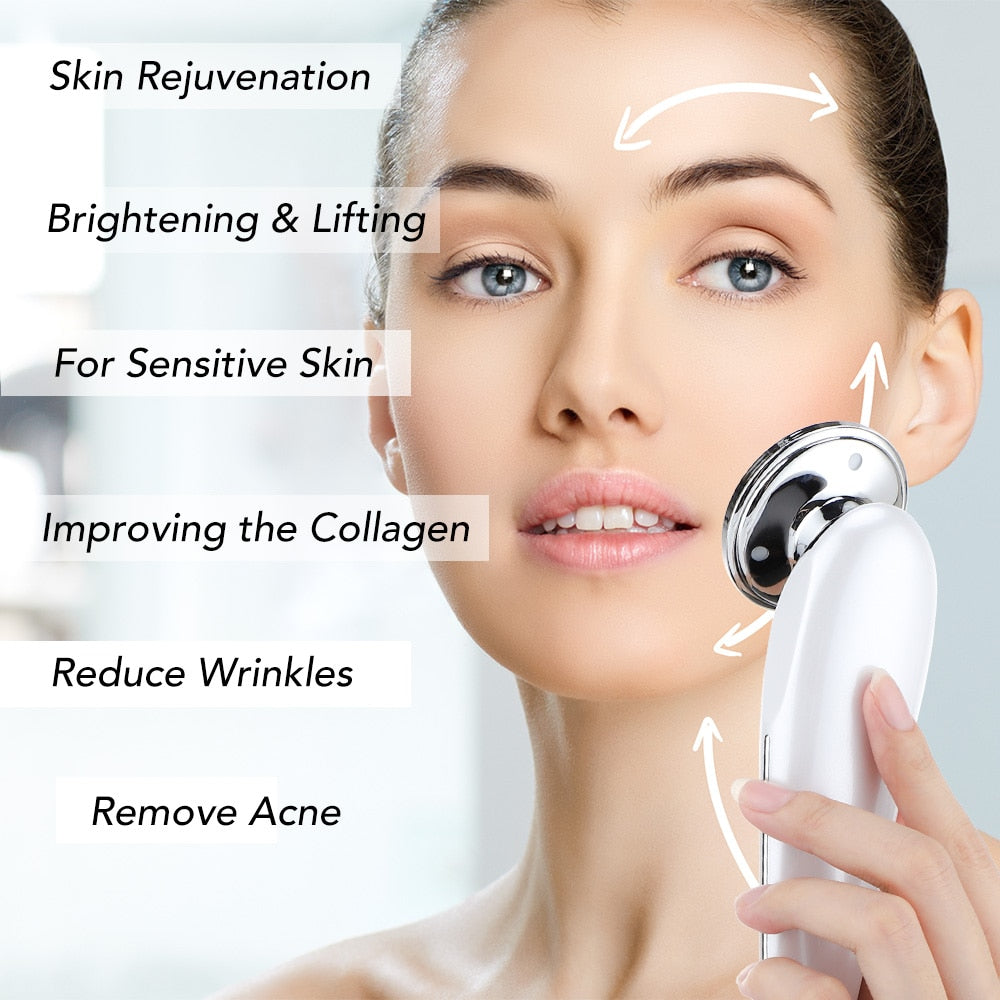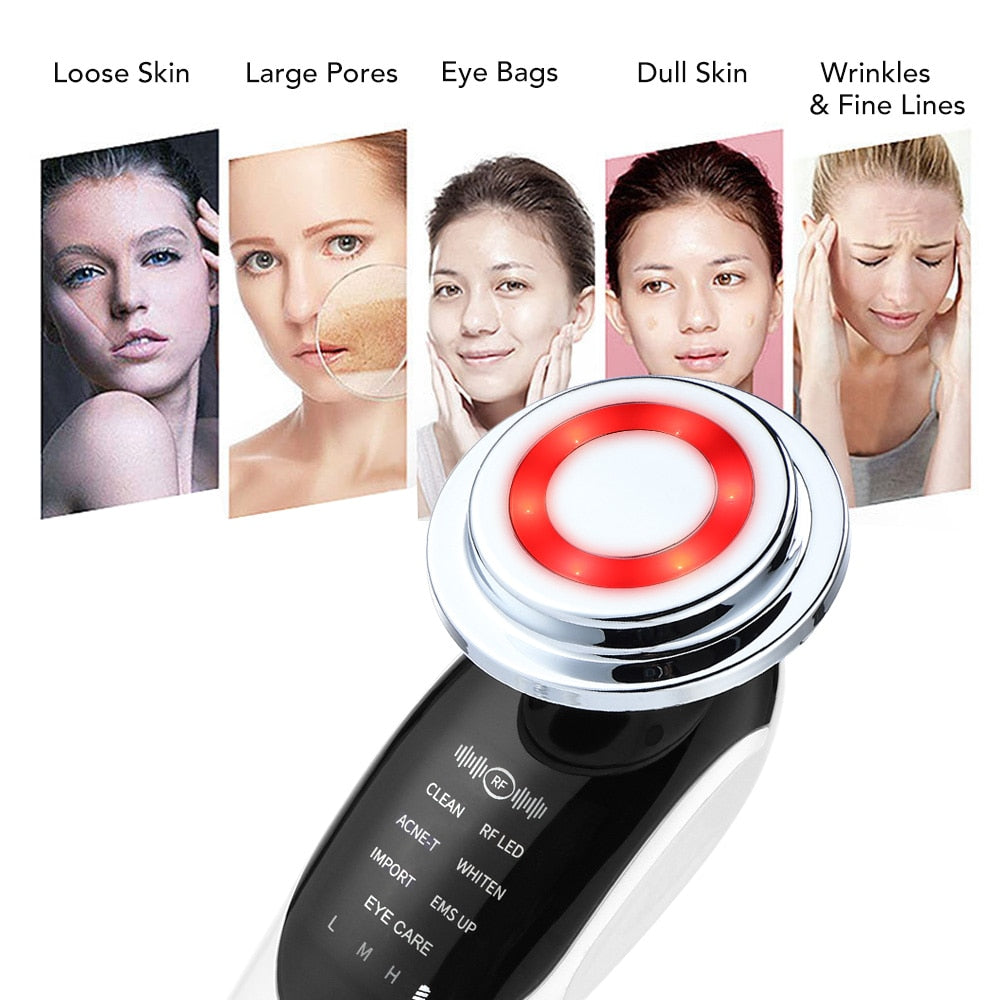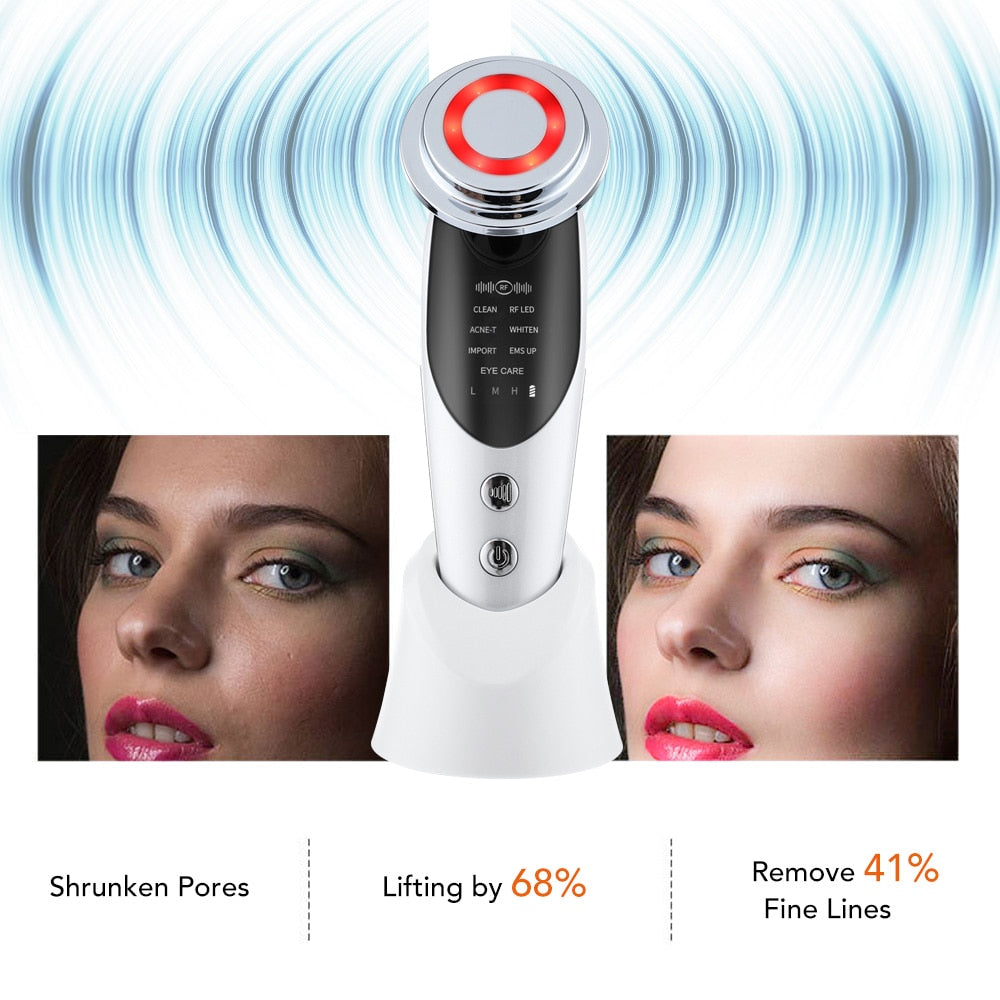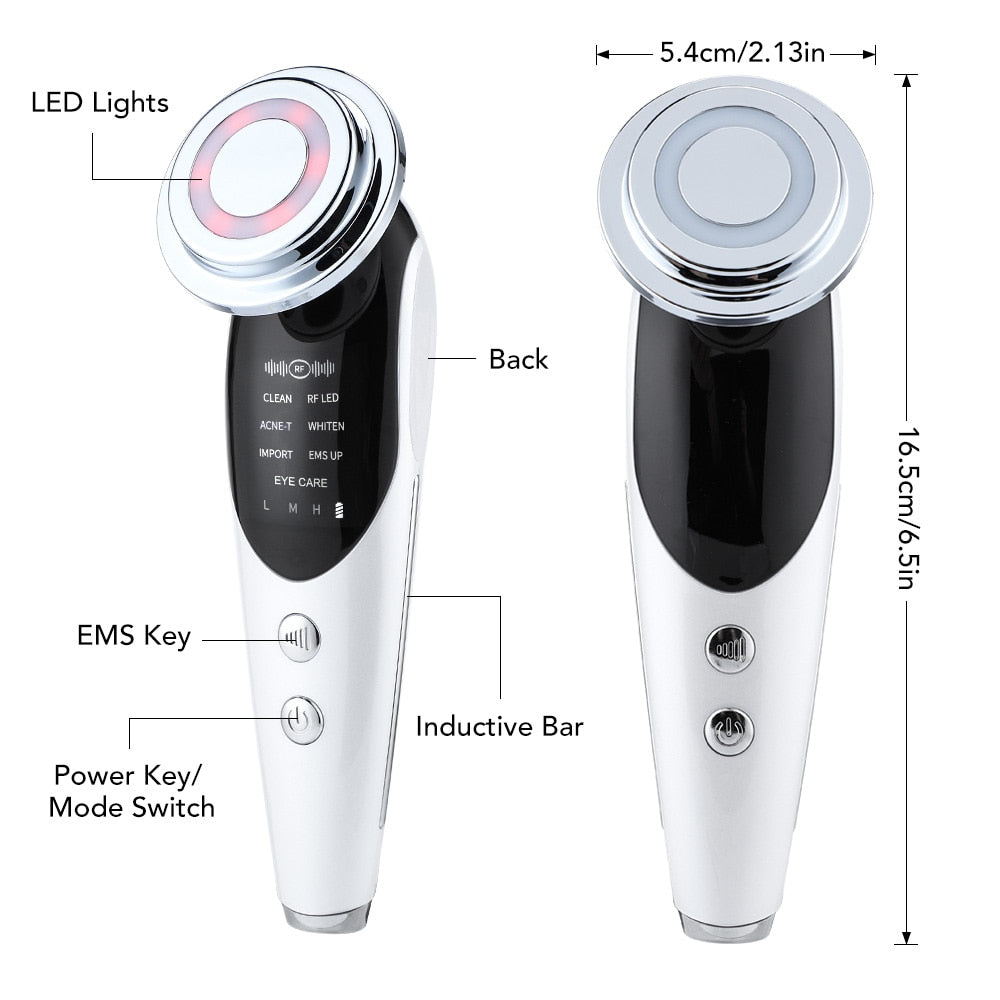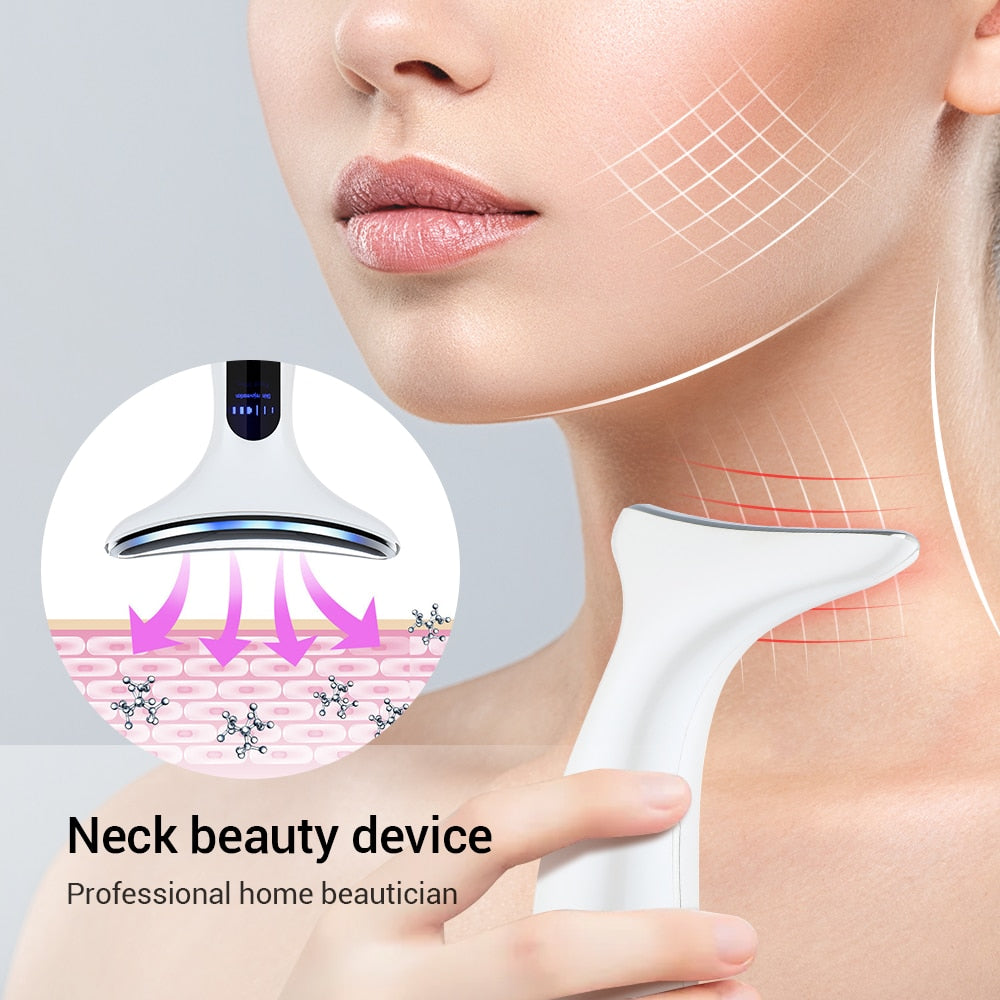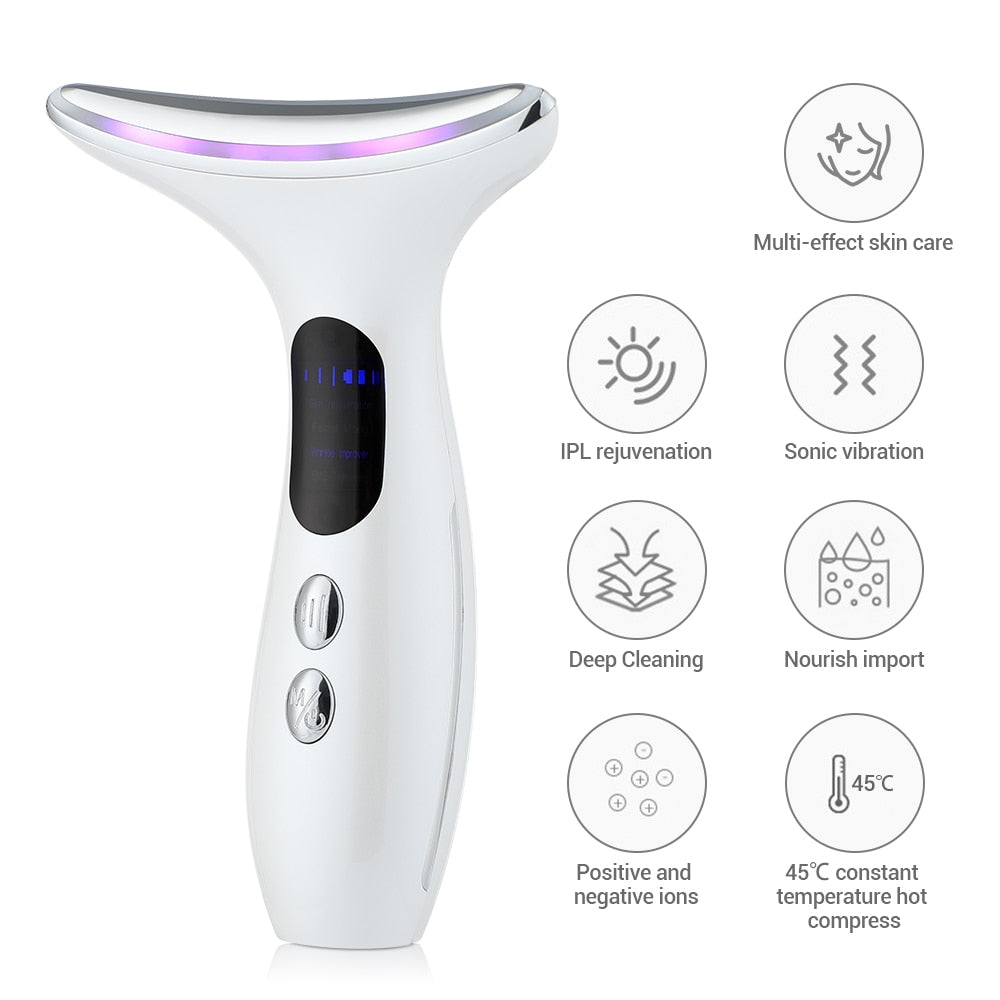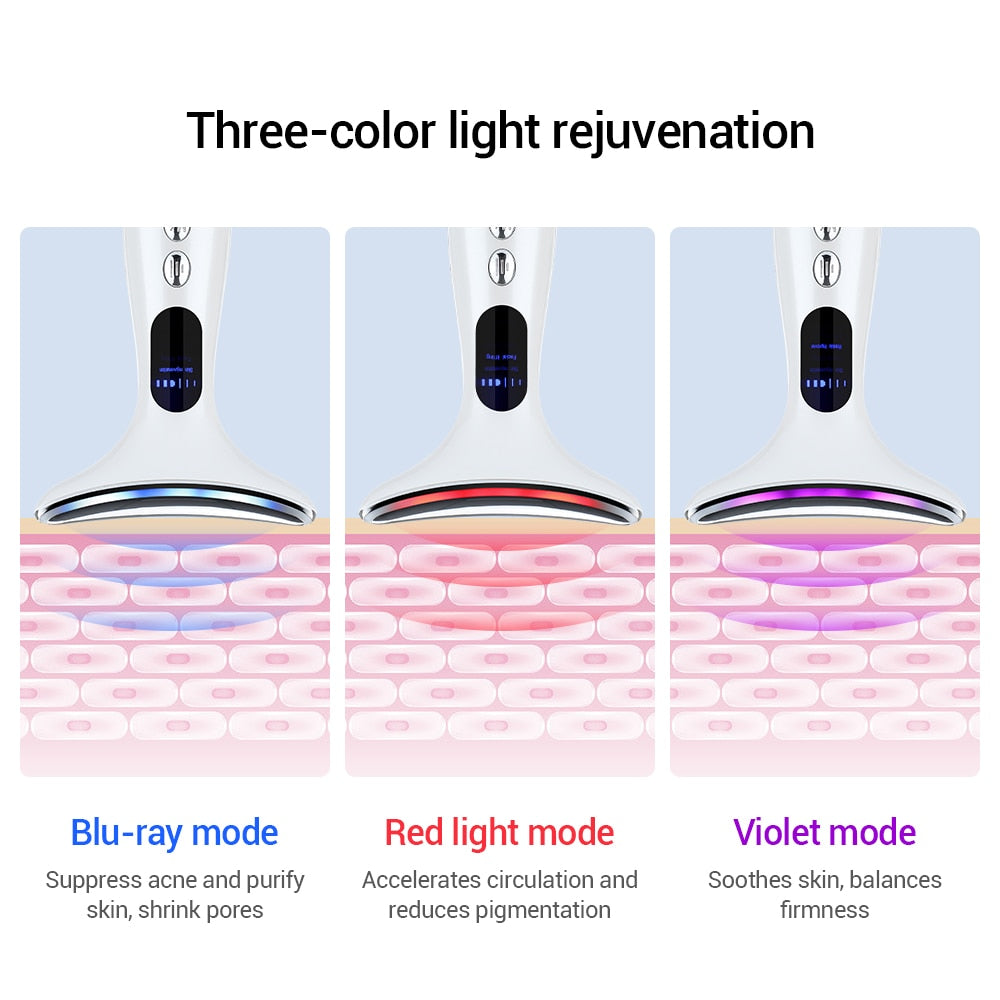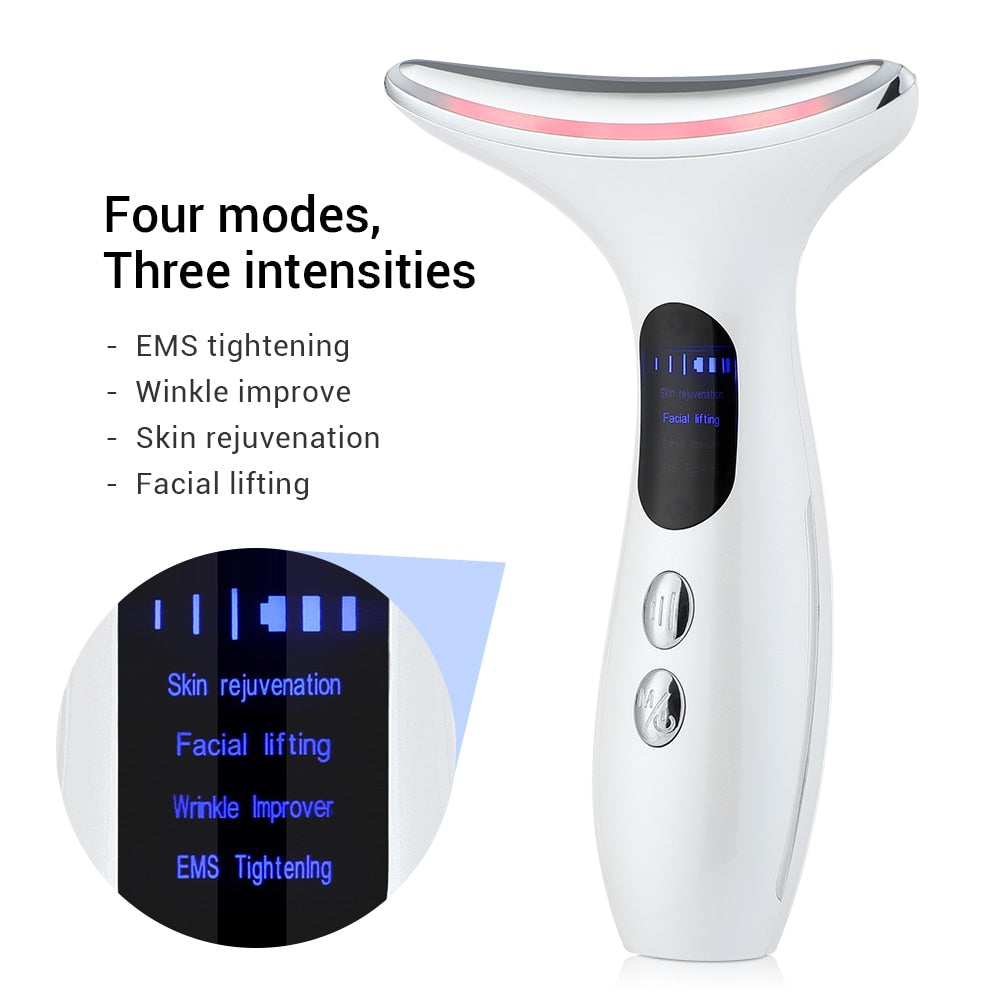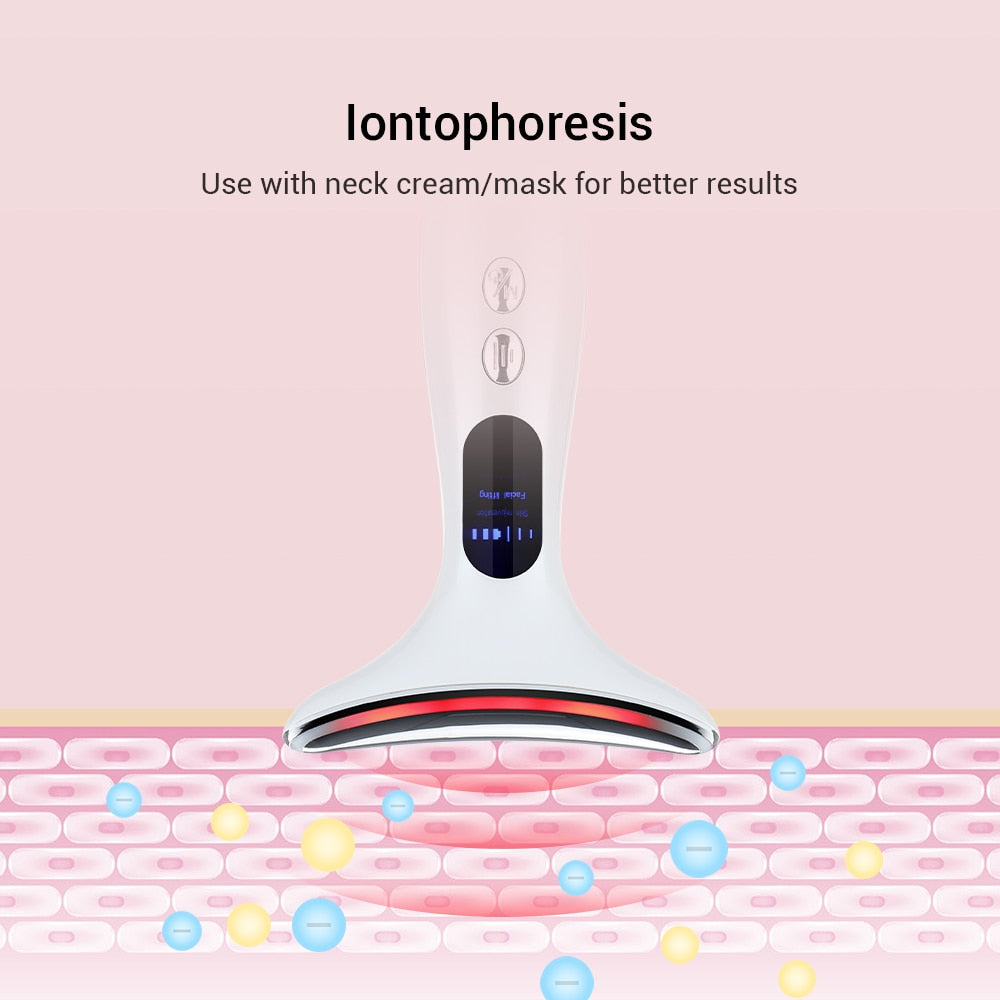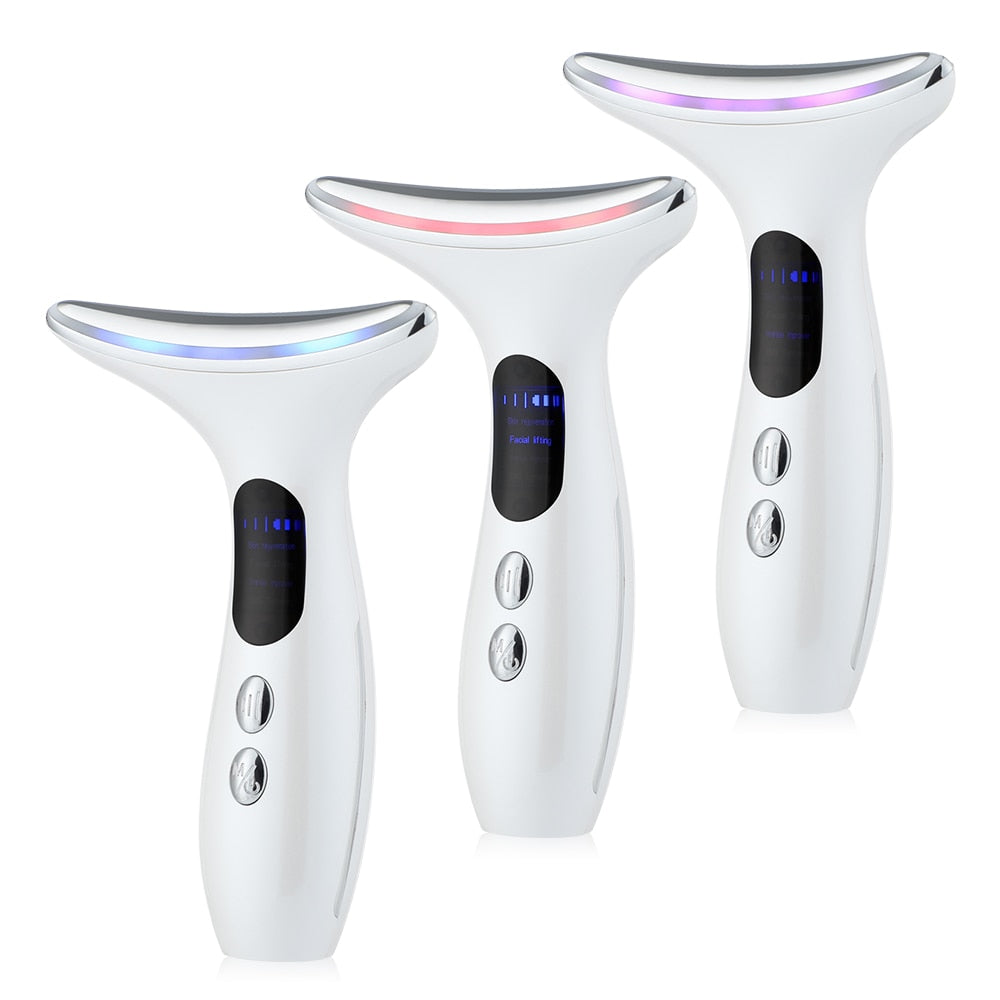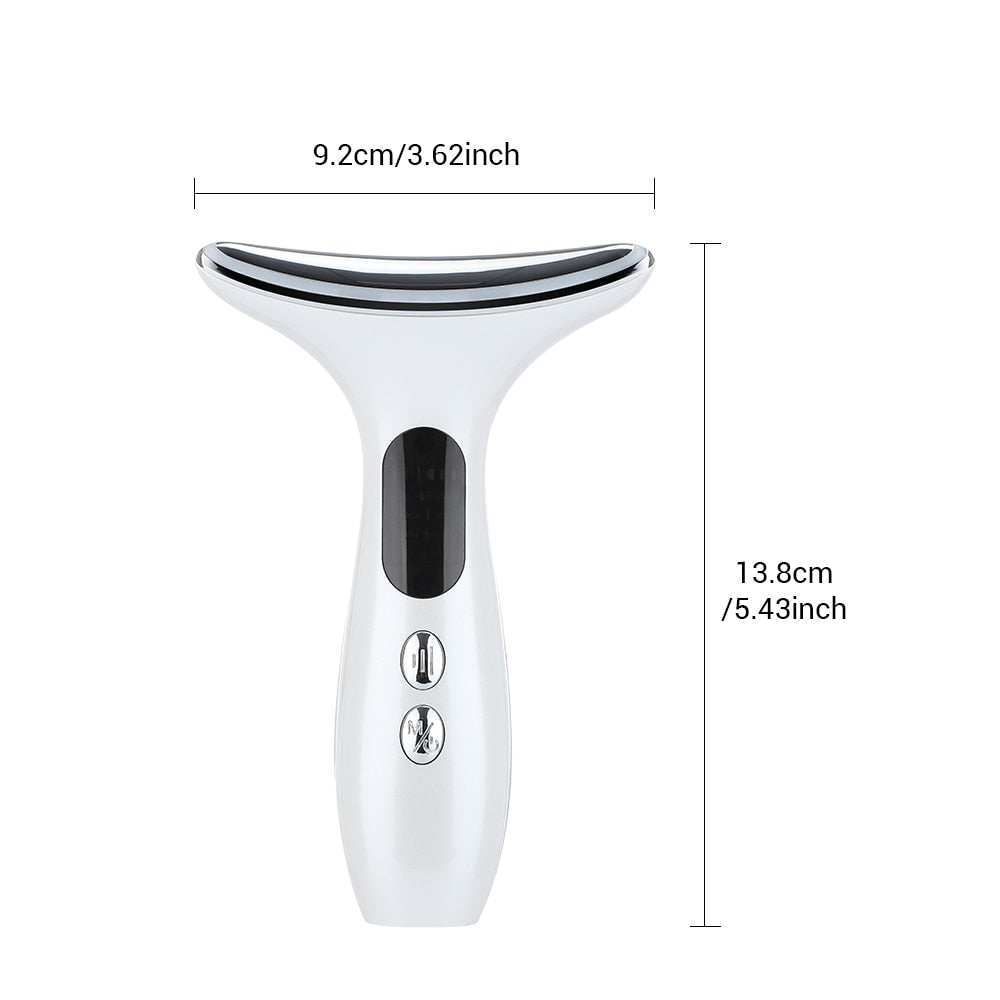 Recently Viewed